Today is the first edition of "Facebook Funnies". Link up with a post of all the funny, unusual, stupid statuses that you find on facebook. The only thing I ask is don't use anyone's actual name, location, school, ect.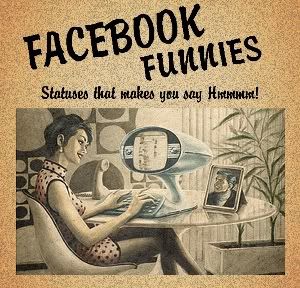 Feel free to grab the button.
Big thanks to
Jess at Just a Geek Named Jess
for making this button for me! I absolutely love it and I appreciate it! Please check out her blog too.
Here we go:
- finds that when he is covered in urine, it is seldom his own
The odd thing about this one is that the guy that posted it has no kids.

- I am amazed by the trash on facebook. Seriously folks this isnt MySpace.
I couldn't have said it better myself.

- deer camp. cold beer and dead deer
This is is from my husband. Please no dead deer, please no dead deer, please no dead deer.

- Kids in the back seat cause accidents, but accidents in the back seat cause kids
Yes, sometimes they do.

- has learned two things from his bewildering trial of ordeals over the past 3 days. One, that when it rains it pours. Two, that the only way to truly get what you want is through cruel and relentless deception.
Oddly enough, I don't totally disagree with the cruel and relentless deception part of this.

- I wish there was a new standard option on cars that allowed you to aim, point, text the car in front of you and tell them to get the F out of the way Grandpa!
I'd definitely buy a phone that did that.

- If a canoe tips over in your front yard and all four wheels fall off. How long would it take a monkey with a wooden leg to kick all the seeds out of a pickle?
Huh?

- I gotta a call from a charity asking me to donate my clothes to starving people. I said, "If my clothes fit those people then they are NOT starving!"
Hahaha... I feel you on that one.

- what the @#$%... [dog] has cotton thread coming out of her bum. She must have eaten it when I was sewing last week. Tried pulling it out but it was obviously uncomfortable so cut off as much as I could and going to wait for nature... About a metre length so far!
The funny part of this one is that I have had to do the same thing.

- Today, I'm thankful for prophylactics & artificial insemination.
Yes, I guess those are good things to be thankful for.

- Who can cut designs in a faded haircut? Obviously noone around here is up to date enough lol
Who the hell would want a "design" cut into their hair?

- went to walmart tonight & at the courtsey counter there was an older lady there saying they charged her to much on tax & walmart owed her .07 cents..what?
It's Wal-Mart. What do you expect?
Now it's your turn. Link up and come back to see what everyone else posts. The more people that link up, the funner this will be.