It's once again time for "Facebook Funnies." Post all the weird, unusual, creepy, or funny
statuses that make you go hmmmm
! and then link back to here. Just don't use anyone's name, address, school, ect.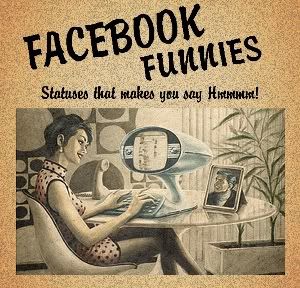 Feel free to grab the button.
Here we go...
- In the memo field of all your checks, write "FOR SEXUAL FAVORS"
Haha... I might try that sometime.
- gotta love it when u order food and have the delivery guy get u a pack of smokes on the way
I hope he at least gave him a good tip.
- saw a van that was covered in dirt & someone had written "I wish my wife was as dirty as this van". I wrote "she is.... when you are at work!"
I hope the person whose van this is didn't take it seriously.
- Back to schoo Back to schoo to prove to my wife im no foo
Written by my hubby. No shug, I don't think you are a foo.
- Damn "Storage Wars" because of you I am exhausted this morning! A&E your programming is like crack!
I don't know what crack is like, but I have to agree that A&E shows are very addicting.
- is making a new year's resolution to give one lucky homeless person a home... in my belly.
That's strange
- Believes he was just profiled and that's wrong... i feel violated... at least he had gentle hands
Yes, at least he had gentle hands
- once combined leftover Indian food w/eggs for breakfast. He built a car using only twigs, bottle caps, bull sperm and a coat hanger... all before noon.
How about that very being innovative.
- So I found out today that the "box cutter" I've been using for the last 4 years at work is actually a tool used for pig castration. I'm a little disturbed by that.
This one is from me and is a true story. I swear.
**Edit... I was asked to elaborate on the pig castration tool. ***
I started my job a little over 4 years ago. When I "moved in" there was, what I thought, a box cutter/letter open type of instrument in my desk drawer. I use it from time to time to open boxes and stuff.
Today my boss was trying to open a box and I told him that I had an opener. I busted out my "box opener."
He said, "You know what that thing is?"
I said, "yeah a box opener."
He said, "It's actually a tool we used to sell for pig castration."
I was all, "Nu uh? Are you serious?" He's not one to make stuff up just to get me going.
So I believe him when he said, "Yeah. It's probably 20 years old. The blades probably really dull"
I asked another lady that's worked here forever and she said it was the truth too.
The business I work for sells lawn & garden, pet, and agriculture supplies so, it's really not that far fetched. But I don't think I'll look at my "box opener" the same ever again.
**End Edit**
Please link up if you'd like to share.
Happy Thursday!