I've decided to link-up with
Impulsive Addict
and
Shawn
for Talk to us Tuesday again. Why? Because it's awesome and I can talk about whatever I want.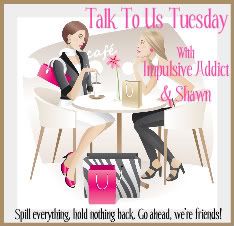 * We went camping this past weekend. The weather was perfect. We went to some friends of my parent's campground. They are all animal lovers, so that was nice. The pups got to run wild. They had a blast. When we got home Sunday, we all crashed.
* I'm so over fooseball already. Some of you may not know this about me, but I HATE football. I don't understand it. I think it's dumb and I think it makes people act dumb. I've already blocked two people from my Facebook feed because that's all they ever post about.
* On the other hand,
GO CARDINALS!
We are big Cardinals fans and I honestly I'm surprised they made it this far.
* School sucks. I feel like I'll never get done. Although, I only have 6 classes left. I'm seriously lacking in the motivation department this semester.
* My mom is going to start a new business venture. I'm super pumped about helping her out with that. I'll share more details soon.
* That's about all I have. Hope you all have a great week! Who knows, maybe you'll hear from me again before the week is over.