Today I'm linking up with
Impulsive Addict
and
Shawn
for their brand new link-up, "Talk to us Tuesday". It's the best kind of link-up. As in, there are NO rules. Just blog and link up.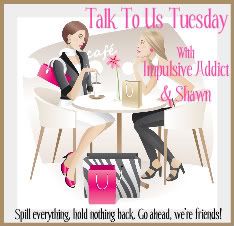 This past weekend we went camping at my grandpas. It was pretty awesome. Saturday afternoon, grandpa hooked his horses up to his wagon and took us on a wagon ride. I may have drank more than 1 or 2 mixed drinks on said wagon ride.
Grandpa let me try to drive them and it was like they were drunk. They were all over the road. (I wonder if I could have got a DUI for that.) Anyways, it didn't last long and we weren't on a road that cars go down.
Then when we got back, my cousin had shown up and was going to ride his horse. I thought it would be a great idea for me to go too. So, I rode one of my uncle's horses. His name was Cash, like Johnny Cash. He was well behaved.
But let me tell you, my back, knee, and butt hurt like hell the next day, yesterday, and even a little today. I don't think being a cowgirl is for me.
So, by the time we got back from riding horses, it was dark, I was drunk, and hadn't ate since breakfast. I had a bowl of soup and then took the pups to bed with me. That was around 9:30.
Hey, at least I didn't feel like garbage the next day.
Happy Tuesday!