Hi everyone! I'm on vacation this week. Matt's working Monday and Tuesday. So by vacation I mean, I'm mostly likely laying on the couch catching up on my DVR, maybe watching the Price is Right, and trying to clear my head. Hope you all have a fantastic week!!!
Today, I have an awesome guest blog from The Impulsive Addict @ Confessions from an Impulsive Addict. She's seriously one of the funniest bloggers that I follow. If you don't follow her, you're missing out.
So without further adieu....

Have you ever broken up with a guy because he was a HORRIBLE kisser?
I have and I'm not ashamed to admit it. Kissing is my thing. I love it. I look forward to it. It sometimes leads to more things
(HOLLA)
but when you are dating someone that can't kiss, it ruins
E.V.E.R.Y.T.H.I.N.G.
Are you with me ladies?
When I first met "Beefcake", I was enamored with him from the get-go.
He was hysterically funny.
He was surprisingly charming.
He was a cowboy (which was a first for me!)
And when he finally asked me out, I had dreams about us sucking face.
In my head, it looked similar to this picture: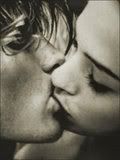 So after dinner, we headed back to his place for a movie and wine. I had butterflies in my tummy. I knew after waiting patiently for this date to finally arrive, I was gonna make out with Beefcake
TONIGHT
on
HIS COUCH
!
And then, the moment that I had
dreamed
about happened!
My whole entire face was wet.
I couldn't breath.
He was literally suffocating me with his saliva.
Did he just come at me with an open mouth? Oh shiz. He did.
I stood up quickly and excused myself to the bathroom so I could dry off with a towel and think about my exit strategy. I couldn't believe that Beefcake was a face-licker. I was crushed (and still a bit wet behind the ears).
After returning from the bathroom, I made up the worst lie ever about why I needed to leave
(forgive me sweet baby Jesus)
and he looked confused but agreed to walk me out. I was dreading this because I knew what was going to happen as soon as I got to my car.
And just as I had predicted, as soon as he opened my door, he came at me with an open mouth similar to this picture
And I'm pretty sure I peeled out of his driveway.
He tried calling several times but I am
no good
at handling confrontation, so I chose to ignore the situation and just hope and pray that we
NEVER
run into each other again.
Please tell me you've had a similar experience?
And there is no need to judge me, people.