It's once again time for "Facebook Funnies." Post all the weird, unusual, creepy, or funny

statuses that make you go hmmmm

! and then link back to here. Just don't use anyone's name, address, school, ect.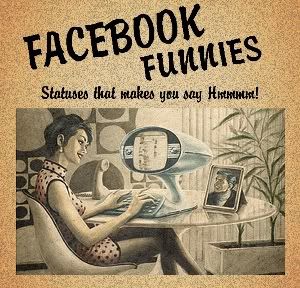 Feel free to grab the button.
Here we go...
Don't you hate it when your kids wander into the bar when they know they're supposed to stay in the car?
Luckily, my kids don't have thumbs and can't get out of the car when I'm in the bar. *rolls eyes* I hope this person isn't serious.
51% of Americans have Facebook....even so, 99% of them still don't give a shit if you're "Excited to go shopping later"
My thoughts exactly.
You know you're a perve when you run out of ***** up things to type in to a porn search engine :-P
You know you are a perve when you are typing things into porn search engines period.
Ok now....Charlie Sheen was hospilized for a HERNIA. So remember kids, when you have a giant suitcase of coke....lift with your legs.
Very good advice here.
my poor sweet baby keeps telling me she needs to go poop, and every time we sit on the potty she says she is going, but she is constipated i think, she is having a rough time. I am giving her a warm bath to try and help, hopefully it happens soon!
TMI! TMI! No one cares about your kids bowel movements.
If you wear a crash helmet when driving a car, people will stare...but I'll bet they get the **** out of your way!!
Yes, I bet they would get out of the way. Maybe I'll try this one sometime.
Did a little landscaping around the house tonight...now I think it's time for some manscaping!
Again, TMI!
How am I supposed to masturbate when you people keep messaging me?
What's up with all the perves this week?!?
Feel free to link up and share!
Also, if you hurry, you still have time to enter Brittany's giveaway over at Tales From a Sailor's Soul Mate! She's giving away all kinds of awesome red, white, and blue goodies in honor of having 100 followers. Hurry though!
Oh and if you are a new follower of my blog, thanks for stopping by and please say hi so I can go check your blog out.
Happy Tuesday!