It's once again time for "Facebook Funnies." Post all the weird, unusual, creepy, or funny
statuses that make you go hmmmm
! and then link back to here. Just don't use anyone's name, address, school, ect.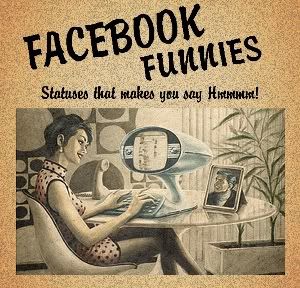 Feel free to grab the button.
Here we go...
- It's one of those days that you want to make a tinfoil Viking helmet, stand in the corner with a broken broomstick and threaten everyone in a bad German accent.
Hmmm... I've never wanted to do that exactly. I'm having a hard time even making a mental image of this.
- lets see here....i agreed to meet you to talk....we are sitting at denny's eating and you say i slept with you.....so I DECKED YOU IN THE FACE!!!!sorry but you had it coming!!!!think about that....
Well how about that for putting it all out there.
- Sometimes I feel the fear of uncertainty stinging clear, and I can't help but ask myself how much I'll let the fear take the wheel and steer, It's driven me before and seems to have a vague, haunting mass appeal, But lately I'm beginning to find that I should be the one behind the wheel. Whatever tomorrow brings, I'll be here with open arms and open eyes.
Fun fact... this is the first song I ever learned to play from beginning to end. It's an Incubus song.
- so I told this guy, if you ever touch me there again imma call the cops.....
The odd thing about this one is it was posted by a guy.
- I wanna see everybody with cats for profile pics, for lupus or some shit
I like when people make fun of all the dumb following along crap.
Here's a thought to ponder, why is that snow scrapers never work but a credit card or gift card works great? Why don't they make scrapers out of credit cards?
That's actually a great question.
- Is NOT the guy your momma warned you about. Your momma didn't have this much imagination!
No wonder this guy is single.
- Neil Diamond was inducted into the rock and roll hall of fame. Did I miss something? Alice Cooper okay but Neil Diamond? Maybe they need a light rock hall of fame.
I agree.
I saved the best for last for you:
Corporate America, Insurance companies, and Third Party Insurance Claims Department and all you other run-around jerks: here's a little Christmas jingle from me to you (to the tune of Jingle bells): Kiss myyyyy @ass, kiss my @ss, kiss my naked @ass. Pee on you and poo poo too and have a crappy day! hey!
How's that for some Christmas spirit. Bahaha.
Now it your turn! Post your statutes, link up, and come back to see the other.